Just remember, it's all going to be OK :)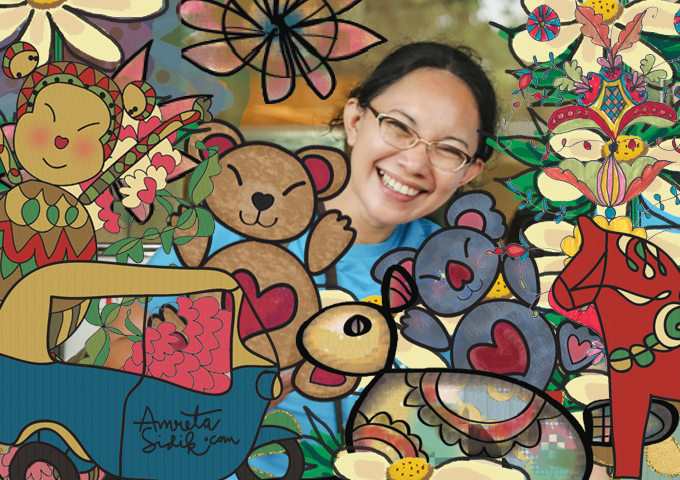 And get back to your preferred artboard without question, just do. I know, I found it very difficult as well. For several months I had been overwhelmed with projects and work travels and, once again, my creative pursuit suffered.
I don't know what made it so damn difficult for me to take a few minutes a day just to move my pen over paper or to open illustrator and create a doodle. But maybe, just maybe, now I have the answer: maybe it was a familiar fear that kept telling me I wouldn't be able to stop once I started.
Anyway, it happened today. And somehow that fear's fear was right. Once I started I couldn't stop. After all the 4 months of madness at work finally the project's accomplished and I didn't foresee any long distance travel until August. A quiet Sunday on my own today is a real luxury.
I could have just slept the whole day (like I thought I would, it's fasting month anyway). But no. In the morning I opened my computer and … whoaaa, eight hours later, this very moment, I'm still here.
Many update notifications popped up as I opened my blog and I didn't know if I wanted to laugh or cry to see the last blog post I published four months ago. Four months!
Ok, time to restart.
Spotify on. Handel's The Arrival of the Queen of Sheba. Mood up.
And that creativity I thought I'd forgotten poured back in. (I wrote 'poured back in' because it felt like a rain of creative thoughts pouring in my head).
I created the image above and it brought me joy. Though the process was a bit complicated, because, I couldn't preview the old photoshop files and I already forgot most of what's inside the files despite the name files… Somehow, the search-and-find process lead me to a new idea (thankfully, not a new regret). It's that maybe..I could blog my 'old' drawings, sort of recycling old blog posts, cataloging my artwork in the process. And there are many of them!
Spotify is still on and it's now David Garrett playing Kreisler's Variation on a Theme of Corelli in the Style of Tartini (what a long title!). It's another favorite of mine. And somehow the title "Variation on a Theme" serves me a big idea. I know what I will be blogging. Variation on a theme.
And well, a self reminder: when your time for creativity seems to get rough, remember, it's all going to be ok!
Much love and art,