Come Explore the Graphicalicious Magic with Me!
Welcome to my artsy whimsy home on the world-wide-magic-web. It's full of heartfelt artwork, all graphicaliciously homemade with love and a happy heart.
The colouring pages and other artwork here are all original, created on my precious sketchbooks with my favorite pens and on my lovely computer with the help of the fantastic Adobe crew: Illustrator, Photoshop, InDesign, plus a super genius mouse! (and lots of coffee...). Fresh, folksy, whimsical and mischievous, they have a sparkling mission to invite the creative spirit in you to laugh, play and kick-ass! The colouring pages are also designed for you to fill your creative and awesome everyday with colours. And, the colours are yours :)
Making art shows me that magic can happen every moment
with each stroke of pen and brush whether on paper or on screen. With each colour and shape you experiment and play.
Art reconnects me with my heritage.
It teaches me to revisit my childhood and to explore my hometown the Javanese city of Yogyakarta and its marvelous culture - and consequently to see the world - through the lenses of awe and beauty.
Moving my hands making artwork is a personal therapy for me
as it allows me to express my thoughts and emotions and let love and the creative force inside me flow and expand. It trains me to be fearless and to surrender. It heals. It's a potent medicine (especially when laughters are involved!).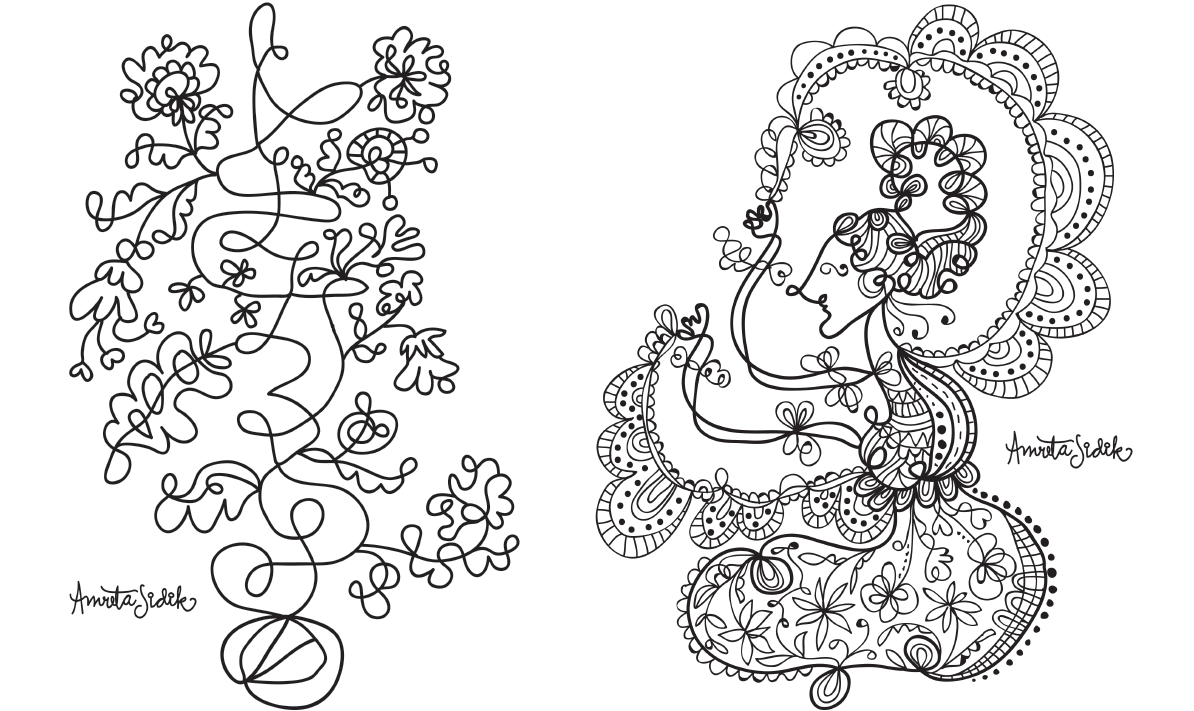 Making art simply makes my day, energizes me and it feels wonderful!
I hope my artwork will travel across the world-wide-magic-web and brighten your day, too!
Yes, you! Welcome to my artful, graphicalicious world! :)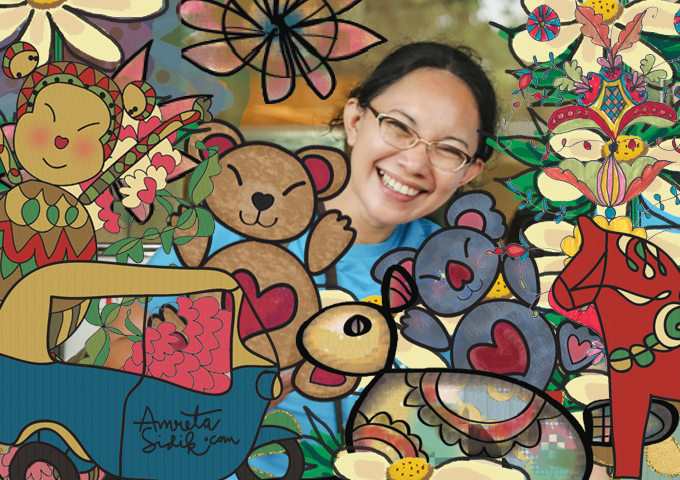 And some things about Amreta...
Amreta Sidik is a late bloomer, she only started drawing graphics in her late twenties, when she coudn't find illustration she liked for her personal website, back in year 2000. She created web graphics and published her work on www.amretasgraphics.com, until February 2014 when she was introduced to Adobe Illustrator and thus reignited her passion in digital drawing.
Towards the end of 2014, in a gathering, a new friend told her about colouring books for adults and suggested that maybe she would consider turning her existing artwork into colouring books. Well, why not?
In February 2015, Amreta received a scholarship to Marie Forleo's B-School, and during her studies, it became clear for her that creating art was something she's really passionate to do, especially since she learned from her classmates that her artwork could be used to help others, too! She hopes that her artwork, inspired by the art and traditions from her homeland the island of Java, can be of joy for as many people as possible on this planet!
Amreta offers unique, fun and high quality printable colouring pages and other digital artwork for you to play with - GET ON THE LIST for weekly yummies delivered to your email FREE :) click here